"Oshawa needs a fighter, and that's why I strongly endorse Jennifer French. I was proud to represent Oshawa in Parliament from 1968-1990. And I was proud in 2014 to endorse Jennifer when she ran against a 19 year Tory incumbent - and she won - and she's been winning ever since. Jennifer has worked day in and day out for the people of Oshawa and we must be sure to get her back to Queen's Park."
—Ed Broadbent, former Member of Parliament for Oshawa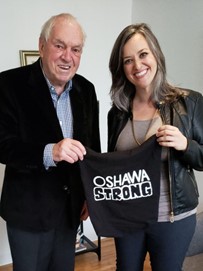 "Jennifer French has earned the support of workers across Oshawa. Jennifer is a champion for workers. Our members have been well-represented by someone who knows the value of strong public services - and has shown time and time again that she will defend them. We need Jennifer's voice and passion at Queen's Park!"
—Fred Hahn, President CUPE Ontario - Approved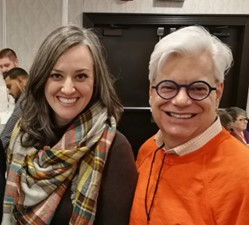 "Young people are not shielded from our present realities. We're anxious about not just the world we're inheriting, but also the hoops we're currently jumping through to attain basic rights like education. As a teacher, Jennifer has seen these issues play out first hand in her own classrooms, and as Oshawa's MPP she has fought tirelessly to rectify them. As a young person, it personally matters to me that we have representatives that understand what it's like growing up in Oshawa right now, because it's truly essential to creating solutions that make a difference."
—Alma Mahmuda, student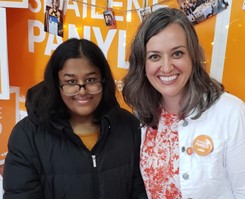 "Jennifer French is our Oshawa MPP, but Jennifer does not only advocate for Oshawa when she is debating in Parliament, she speaks up for all of Durham because the rest of the elected candidates go missing in action when you need them. Jennifer has an open-door policy for the whole community, she listens, acts, and follows up. She has spoken eloquently on repealing Bill 124 and has consistently stood up for healthcare workers."
—Pam Parks, CUPE Local 6364 President, healthcare worker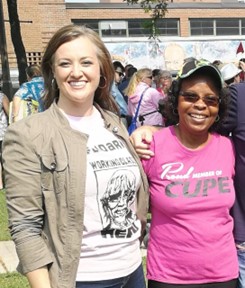 "As the representative for Oshawa throughout the past 8 years, Jennifer has shown a strong commitment to public safety and firefighter safety. Her voice at Queen's Park has had a positive impact on firefighters and their families across the Province.
Her passion and drive to improve our community is second to none.
With this endorsement we encourage all voters in the Oshawa riding to cast their ballot and re-elect Jennifer French, NDP candidate on June 2, 2022 and provide her the opportunity to continue to enhance the lives of the citizens of Oshawa."
—Peter Dyson, President Oshawa Professional Firefighters Association #465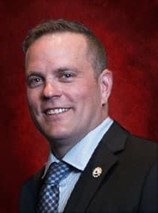 "Jennifer French is an extraordinary MPP. At Queen's Park she has fought to support nurses and other essential workers abandoned by the Province. When Doug Ford said "there is nothing we can do to save the GM plant," Jennifer did not give up, and with the workers, Unifor and others, brought jobs back to Oshawa. She has earned re-election to keep producing results that matter for local residents and Ontario.
As chair of the Auto Industry Mayors in the crisis of 2008 and 2009, I know how important political leadership is in this industry at a time of challenges. Jenn French was the only political leader to fight for these good local jobs."
—David Miller, Former Mayor of Toronto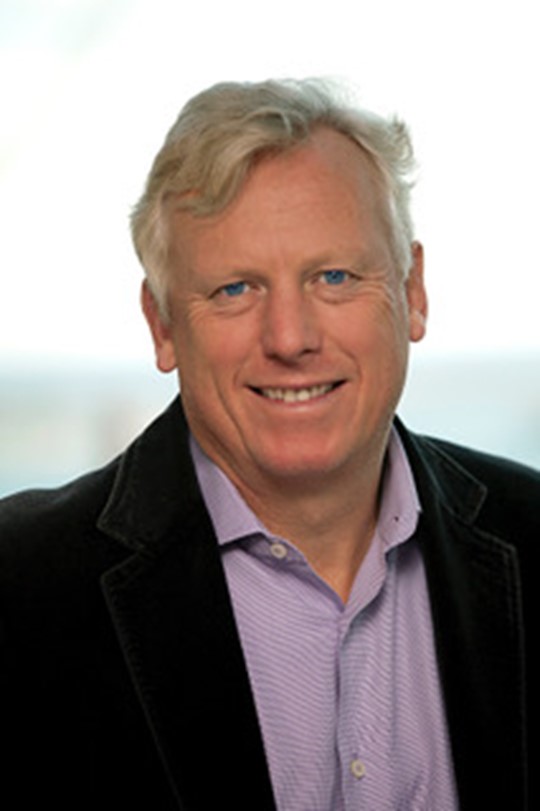 "Jennifer has a caring heart, she is a person that really reaches into the community and helps in every way she can. She has had the back of GM workers and fought to keep the plant in Oshawa, and was very instrumental in getting the tolls removed from the 412 and 418 highways. As a teacher she has always cared about the well being of others and that translates into the care she puts into the community she represents. For these reasons it is fit that she is re-elected and continues to serve the community."
—Raoul Lochan, GM Retiree and Oshawa neighbour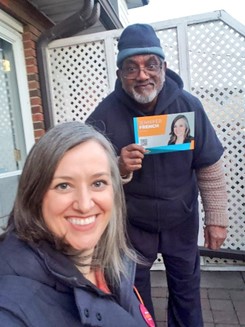 "Through the years I have known Jennifer to be a clear and strong voice for women in their communities and in their workplaces. I know what it means to serve as an elected representative and have to defend workers' rights and strong services - and Jennifer is the real deal!"
—Tracey Ramsey, UNIFOR Women's Director, NDP MP 2015-2019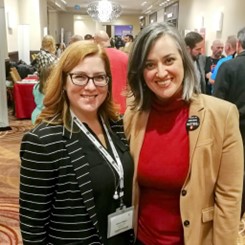 "Jennifer stands with workers on the front lines in times of need; she speaks passionately at Queen's Park for the labour movement as a whole. When GM announced it planned on closing, it was Jennifer who immediately confronted Doug Ford and the Conservative government in a speech that came from her heart. In terms of labour and having a voice for the working class, there is no one better in Oshawa than Jennifer French."
—Jason Wilson, President Unifor Local 222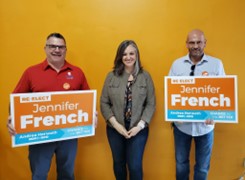 —Mary Fowler, ETFO Durham President
—Derek Giberson, Oshawa City Councillor, ETFO Durham President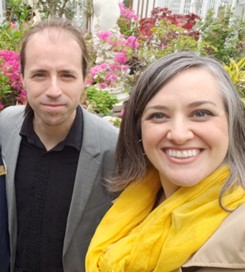 —Ally Zaheer & Devin Mathura (Duffins Creek)